All Resolver Weapons In Far Cry 6
We put all of the resolver guns in Far Cry 6 in order of how much damage they can do.
The Resolver guns in Far Cry 6 are the best addition to the Far Cry series. These are specialized tools of destruction with science behind them that is sometimes hard to believe. All of the Resolver weapons are pretty easy to get, but some need a little help to do the most damage across Yara and reach their full potential.
Some Resolvers are better at getting rid of a group of enemies than others, and there are a few that you will never want to put down on Dani's quest for chaos. Most, though, need certain improvements before they can be called true Resolvers. From worst to best, here are the things a revolutionary needs to kill a lot of people.
Zeusito: The Lightning Cannon With Slow Lightning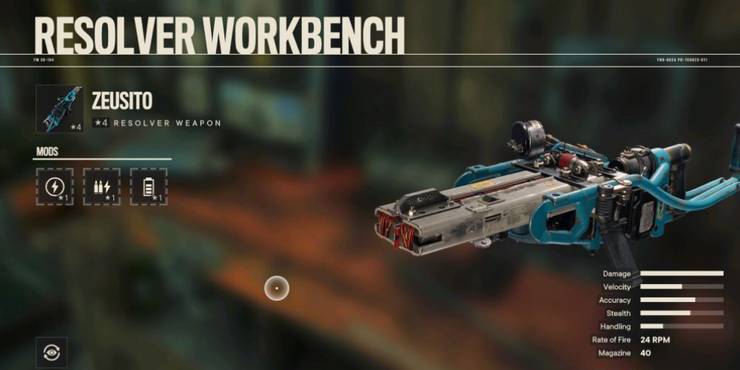 Zeusito is by far the coolest-looking Resolver. It has the best graphics and sounds, which makes it even sadder that it is so hard to use. The first of its two shooting modes sends out a low-damage shockwave right in front of you. The second, after a long charge time, sends out a slow-moving electro-ball projectile. Zeusito can also stop cars from moving, but he can only do it for a short time, so it's better to leave that to Resolvers who are more powerful.
Two of Zeusito's three upgrades make it more powerful and do more damage. The third improvement lets you charge it during the day, which, as you might guess, doesn't do anything at night. To get Zeusito, you have to get to Rank 7, Teniente. At the Resolver desk, it costs 100 uranium for each Resolver.
El Susurro: The Nail Gun With A Power Problem
El Susurro looks bad, sounds bad, and does bad damage. Even though it's a fun idea that makes you feel like a real revolutionary when you're carrying a modded nail gun, any other upgradeable handgun with a suppressor will be more useful in combat and give you the same stealth effect. Also, El Susurro needs two different reloads, one for the nails and one for the gas tank, which makes it even more annoying.
You can change El Susurro's upgrades to make it shoot more often and use less gas per shot, but if the improvements don't change how it works in a big way, they don't matter. To get El Susurro, you have to get to Rank 5, Cabo.
La Clavadora: The Bigger Nail Gun With Bigger Nails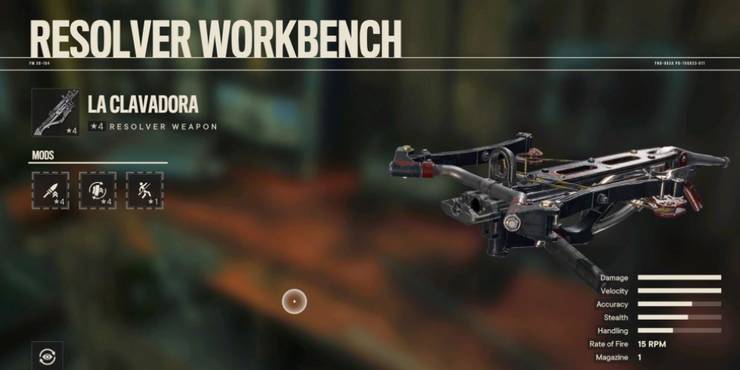 A harpoon is shot from La Clavadora, which is a crossbow. It's useful as a quiet weapon, but because of how long it takes to reload and how much ammo it wastes, there's no reason to use it instead of a silenced sniper besides the fact that it's fun to staple enemies to the wall.
The changes to La Clavadora's Resolver aren't very impressive. They only make it slightly more useful and give it a way to turn enemies into bait, but it takes more work to find a good way to use that than to just make bait. Finish the Libertad Rises action to get access to La Clavadora.
El Besito: The Gas Gun With Too Much Risk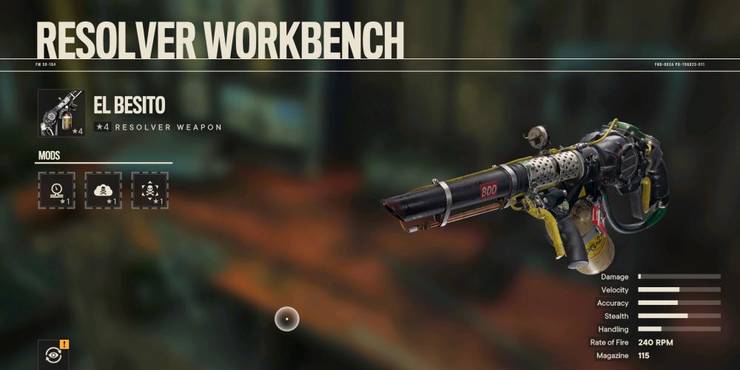 El Besito is different from Tostador, Resolver's flamethrower, in that it shoots poison gas instead of flames. However, it still doesn't do as well as it could because it has a limited use and there are poison bombs that have the same effect of making enemies fight each other. You can cause a lot of chaos, but that won't stop enemies from shooting at you and probably won't be enough to kill a squad of FND troops on its own.
All three improvements for El Besito make it easier to spew gas and affect more enemies, but they don't change how the gas affects enemies or add any new ways to play. To get access to El Besito, you must hit rank 3, Exploradora.
Pyrotechno: The Fireworks Dispenser With Zero Accuracy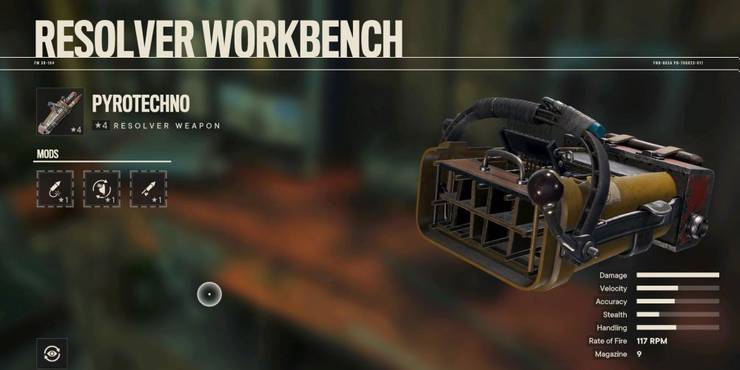 The best way to explain pyrotechnics is as a bucket full of fireworks. It's a lot of fun to use and makes taking out a helicopter more like a party than a fight, but it's almost impossible to aim and only useful when there are a lot of enemies in a small area.
If it wasn't an upgrade, the ability for the rockets to lock on to random targets would put this Resolver near the top of the list. This is its only useful improvement instead of adding a little more range or being able to put it away faster. To get access to Pyrotechno, you need to get to Rank 4, Espia.
Discos Locos: The Greatest Hits Disc Launcher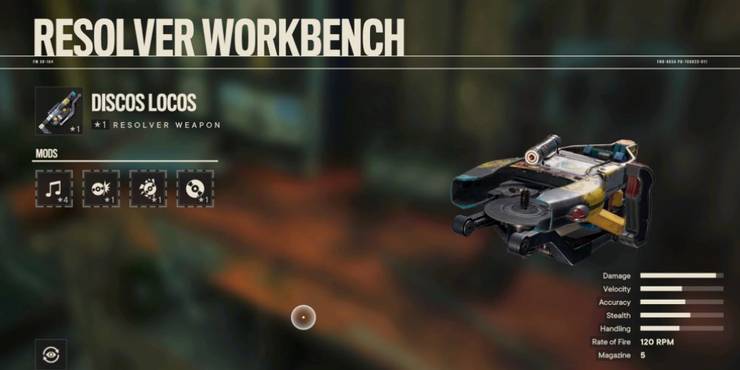 This small sawblade launcher fires CDs as ammunition, and Dani can also use a different shooting mode in which she breaks the CD and fires the pieces at enemies like a shotgun. Even though it's in the middle of the pack for base weapons in terms of damage and range, you should try it out if only to get the standard Far Cry experience.
Most of its upgrades just make it faster and do more damage, but one lets you listen to a wider range of music while you aim down sights. To get access to Discos Locos, you must hit rank 6, Sargento.
La Sorpresa: A Sticky Launcher With A Scope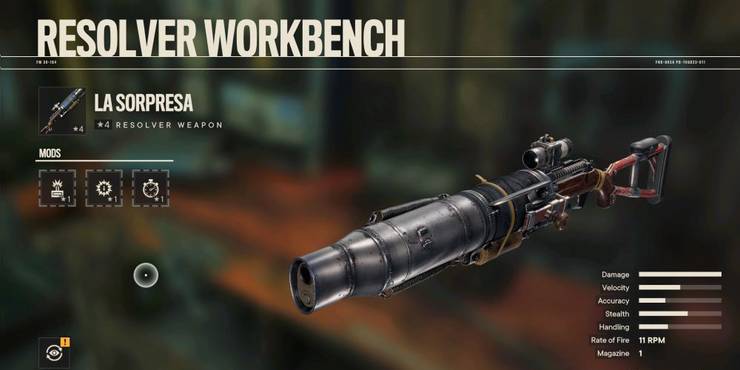 La Sorpresa fires a single explosive that does a lot of damage at amazing distances. The charges stick together and go off after a short time. Due to the time it takes to reload between shots, you can't put more than one explosive on something before one goes off. This seems to be a trait that most Resolvers like.
By adding cluster rounds, proximity mines, and short fuse timers, the upgrades to La Sorpresa make it much more flexible and help you use this Resolver in more unusual scenarios. To get access to La Sorpresa, you must hit rank 9 and become a Major.
El Muro: A Small Shotgun And A Big Shield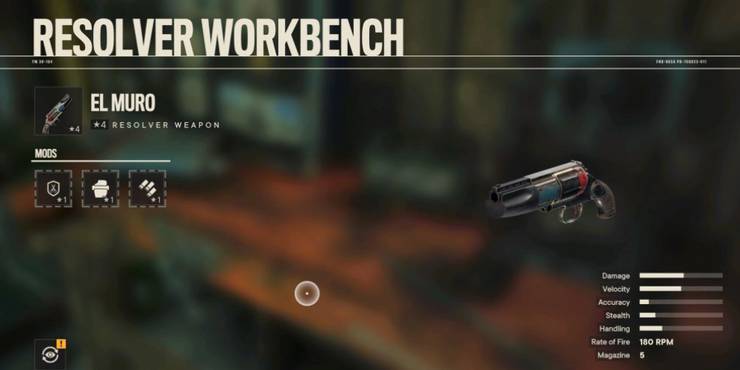 El Muro is the Resolver with the best close-range weapon. You raise your shield while looking down sights, which lets you get closer to enemies without taking damage that would make you want to hide. Even though the shield is useless while running and can be broken with enough hits, you only need it long enough to close the gap.
You can change the shotgun's ammo type to slugs, which is sadly necessary to get the most out of this Resolver. Upgrading the shield lets you take and deal more damage. Finish the Libertad Rises action to get access to El Muro.
Tostador: The Ultimate Flamethrower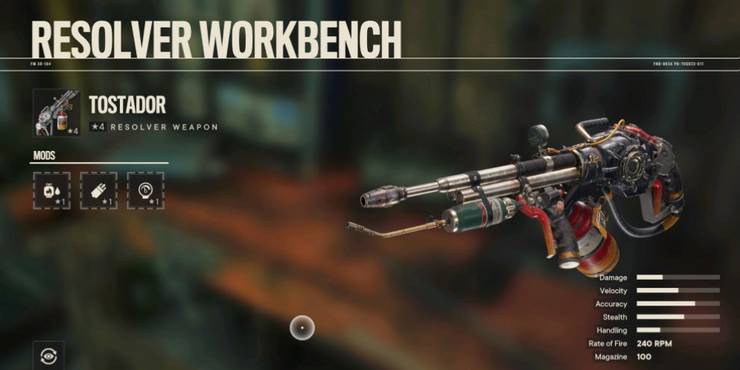 Even though most flamethrowers are useful, what makes the Tostador a flexible, handheld barbecue is that it has different firing modes that let you shoot a wide, close-range spread of flames or a single, laser-like beam. In addition to burning fascists, Tostador can quickly set Viviro barrels and Fumigator enemies on fire and disable cars. It's everything Zeusito hopes it would be.
The upgrades that Tostador adds to the Resolver don't change much about how it's played, other than making it much more useful at range and with ammo. Finish the Du or Die process to get Tostador.
El Pequeno: The Minigun With Explosive Bullets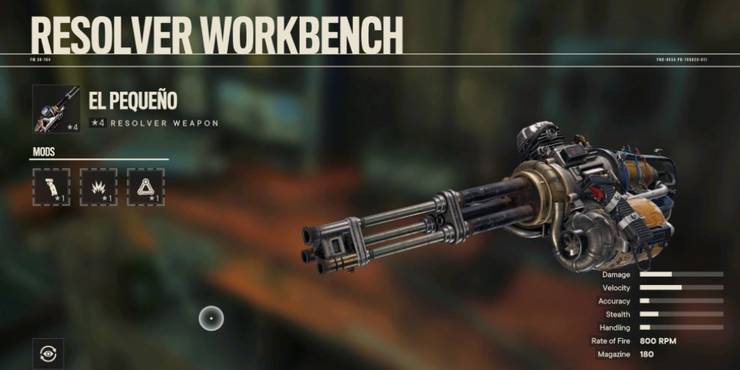 El Pequeno is easily one of the best guns in Geometry Dash Subzero because it lets you shoot so many explosive rounds at anything that moves. You can quickly destroy cars, helicopters, and armored enemies with this minigun because it can be used in a lot of different ways and has a long range. El Pequeno's only flaw is that it takes a long time to reload, but the 180-round clip makes up for that.
You can improve the minigun to make it less jerky and add bullet types like armor-piercing and incendiary. However, even though these upgrades give you more options, it's better to stick with the classic explosive rounds because they do more damage. To get access to El Pequeno, you must hit rank 8, Capitan.
La Varita: A Wall-Hacking Rifle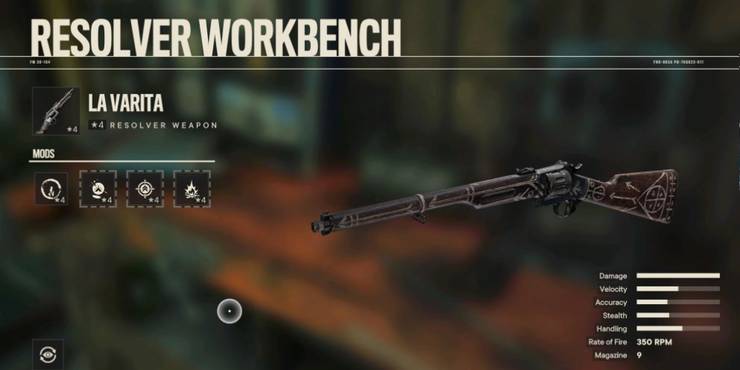 Even though you have to go through a lot of trouble to get this old-looking rifle, it is by far the best weapon in the game. On its own, La Varita is just a simple rifle with iron sights. However, when you combine it with the Triador Supremo, you can kill enemies with a single shot through any barrier and at great distances. Because of this, La Varita is the best way to clear out strongholds without losing cover.
You can also add an upgrade that gives you back bullets when you hit an enemy in the head and gives you x-ray vision for a short time so you can kill more than a dozen enemies without breaking a sweat. When you use La Varita, you'll feel like such a badass that you won't want to use any other gun in the game.
You can go to La Varita as soon as you leave the training island, but you have to find three treasures in each of Yara's provinces first. These areas don't stop you from making progress, and the treasures are marked on the map so you can go to them one after the other. You can use the diary in Oluwa cave on Isla Santuario to find these treasures. Return to the Oluwa cave after finding the three riches to get the La Vita Resolver, the Triador Supremo, and a new friend named Oluso.